Lemmings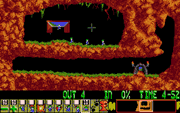 Lemmings, developed by DMA Design and published by Psygnosis, was one of the most popular computer games of its time. The player must guide a group of lemmings to safety by telling individual lemmings to climb, explode, build, block, dig, bash, and mine.
On most systems, the game features 120 levels divided into 4 difficulty ratings (Fun, Tricky, Taxing and Mayhem).
Downloads
Oh No! More Lemmings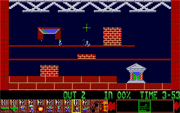 Oh No! More Lemmings is an expansion to the original Lemmings. Since the gameplay of Oh No! More Lemmings is identical to Lemmings, the levels become considerably more difficult at a much greater rate.
This expansion contains 100 unique levels, which are separated into five difficulty ratings (Tame, Crazy, Wild, Wicked and Havoc).
Downloads
Lemmings & Oh No! More Lemmings
Because Lemmings and Oh No! More Lemmings had identical gameplay, they were sometimes bundled together.
Downloads
Holiday Lemmings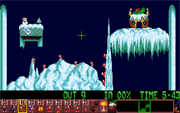 Downloads